Margaret Bayer Named AWM Fellow
---
LAWRENCE — Margaret Bayer, University of Kansas professor of mathematics, has been named to the 2020 Class of Fellows for the Association for Women in Mathematics (AWM). Bayer will be honored for her far-reaching work on the combinatorics and geometry of polytopes; for a long record of successfully mentoring, advising and supervising women in mathematics at all levels; and for her service to AWM and the profession with the third class of fellows.
Bayer will be recognized in January 2020 at the AWM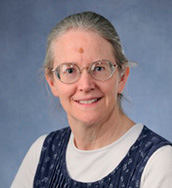 reception during the Joint Mathematics Meeting in Denver.
The AWM Fellows Program was established to recognize individuals who have demonstrated a sustained commitment to the support and advancement of women in the mathematical sciences, consistent with the AWM mission: "to encourage women and girls to study and to have active careers in the mathematical sciences, and to promote equal opportunity and the equal treatment of women and girls in the mathematical sciences."
Bayer came to KU in 1988 and was promoted to full professor in 2001. Her main research interest is in combinatorics and geometry, and her research has been supported by the National Science Foundation and the National Security Agency.  She has been a book review editor for AWM since 2003 and an associate editor for the Rocky Mountain Journal of Mathematics since 2002. She received the AWM Service Award in 2013 and was recognized as one of the 2012 KU Women of Distinction and received the 2014 Max Wells Teaching Award from the Department of Mathematics.
Judy Roitman, professor emeritus of mathematics was selected to the inaugural class of 2018.
Updated on: 10/18/2019