Ingrid Peterson Recognized by KU Libraries
---
The University of Kansas Libraries are pleased to announce that Abbey Dvorak, associate professor of music therapy, and Ingrid Peterson, director of the Kansas Algebra Program in the Department of Mathematics, have joined the 2019 Textbook Heroes cohort.

Textbook Heroes is a new initiative spotlighting KU faculty, staff, donors and student advocates of textbook affordability. Textbook Heroes are identified among those who have adapted, adopted, created or otherwise championed open educational resources (OER) and other low-cost materials for use in classrooms at KU.

Peterson, the sole instructor of record for all college and intermediate algebra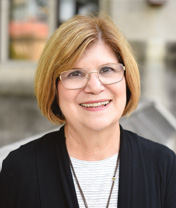 courses, adopted OpenStax textbooks for all sections of Math 101 and Math 002. She was awarded a grant from KU Libraries in 2018 and used the funding to implement the open textbooks across her curriculum.

In March 2019, Peterson was awarded the first Student Senate Textbook Affordability Award, presented by interim Provost Carl Lejuez and 2018-19 Student Body President Noah Ries. As a result of Peterson's OER adoption, KU students saved an estimated $270,000 in textbook and course materials costs during the 2018-19 academic year.

The Textbook Heroes initiative is an ongoing effort, with new champions to be added each spring and fall semester. To nominate yourself or a member of the KU community, contact Josh Bolick, scholarly communications librarian, at jbolick@ku.edu.