Bozenna Pasik-Duncan Selected for Second Term as Global Chair of IEEE Women Engineering Committee
---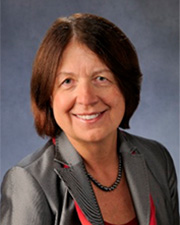 LAWRENCE — Bozenna Pasik-Duncan was selected for a second term as the Institute of Engineering and Electronics Engineers (IEEE) 2018 Global Chair of the Women in Engineering (WIE) Committee.  WIE is one of the largest international professional organizations dedicated to promoting women engineers and scientists, and inspiring girls around the world to follow their academic interests in a career in science, technology, engineering, and mathematics (STEM). The mission of WIE is to facilitate the recruitment and retention of women in technical disciplines globally.
Pasik-Duncan, professor of mathematics, courtesy professor of the departments of electrical engineering and computer science and aerospace engineering, and an investigator at the Information & Telecommunication Technology Center at the University of Kansas,oversees over 830 Affinity Groups and Student Branch Affinity Groups with over 20,000 members in more than 100 countries. Over 100 volunteers are active in numerous committees who drive global activities,40 Liaisons represent Technical Societies/Council, 10 members represent 10 Regions, and 4 IEEE Staff Members administer the organization. 
The WIE Chair serves as the global ambassador for IEEE WIE and is responsible for activities in support of IEEE members and women in the profession to include:
Development of programs and activities that promote the entry into and retention of women in engineering programs.
Advocate for women in leadership roles and for women's career advancement in the profession including IEEE member grade advancement.
Recognition of women's outstanding achievements through IEEE Awards and international award nominations.
Promote sustained global growth of IEEE WIE members through online and local opportunities for women to fully engage in the profession and network with over 400,000 IEEE members globally.
Global Impact
Annual IEEE WIE International Leadership Conference with 1,300+ participants/speakers from 49 countries
IEEE WIE International Leadership Summits held on multiple continents. 2017 Summits were held in Uganda; Goa, India; Krakow, Poland; Islamabad; Malaysia and Sri Lanka
Award-winning IEEE Women in Engineering Magazine(2 issues published annually). Recognized in 2017 with 3 awards for Publication Excellence: Entire Issue and Feature Writing and for Graphic Design
Provided funding and support for 150+ activities including technical conference workshops, special projects and locally organized WIE events to enhance the opportunities for women worldwide
Diverse options for engaging electronically: IEEE WIE web presence; electronic newsletter (bi-monthly); social media-Facebook – close to 130K followers and 131K+ likes; Women in Leadership Community in IEEE Collabratec™: 5,600+ participants
IEEE WIE awards presented annually to recognize achievement:
Inspiring Member of the Year Award
Inspiring Student Member of the Year Award
Affinity Group (AG) of the Year Award
Student Branch Affinity Group (SBAG) of the Year Award